On January 14, ISLAM AKHTAR, a Pakistani postgraduate from the College of Environmental Science and Engineering, was keeping order at the site of the fourth round of nucleic acid test at the Jinnan campus of Nankai University.
From 12:00 noon to 10:30 at night, he and his compatriot, SAYYED YASRA, a postgraduate from the College of Pharmacy, and ABEER SAMIR SAYED OSMAN, an Egyptian doctoral candidate from the College of Tourism and Service Management, formed a team of international student volunteers holding on their posts under the leadership of their student counselor Sun Wei.
I have been studying in China and have personally experienced how much the Chinese government has paid for the prevention and control of the pandemic. China is Pakistan's best friend. The Chinese government and people have given me the opportunity to study in China. I hope I can do something when China is in need. said ISLAM AKHTAR.
It's my first time to be a volunteer and I've realized what a difficult work they are engaging. said ABEER SAMIR SAYED OSMAN. These days ABEER truly felt that the pandemic prevention and control works, including nucleic acid test, quarantine management, and logistics support, etc., need joint efforts.
In the middle of winter, the long-time outdoor volunteer service was challenged by the bitter cold. The volunteers kept warm with warm pastes and plastic bottles filled with hot water.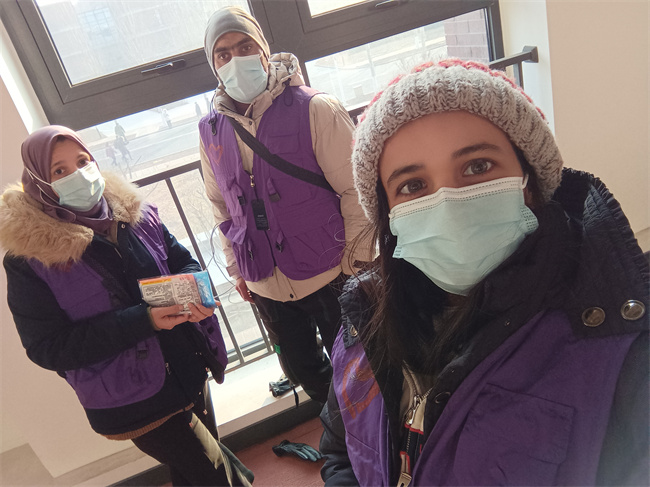 SAYYED YASRA found her job easier, handling the crowd for the test. So she hesitated when receiving the thermos bottles. I didn't accept them at first, because I was afraid the bottles wouldn't be enough. she said.
She was assured to accept them after getting a reply that the plastic thermos bottles were adequately supplied. I like Nankai University very much. I want to protect Nankai University together with my teachers and classmates.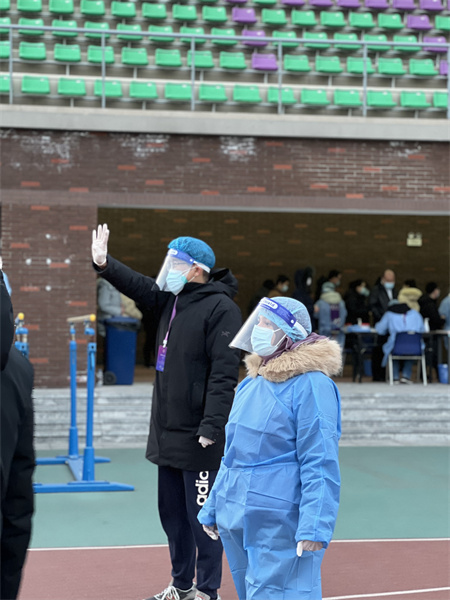 We still have a convenient life in the Jinnan campus. Everything is available. We feel relieved and at ease here, ABEER SAMIR SAYED OSMAN said, Volunteering is a way of giving back.
In the gymnasium of Jinnan campus, the outdoor temperature at night was as low as minus 5 degrees Celsius. The thermos bottles in the hands of teachers and students had long been cooled, but people's hearts were warm.
Go Nankai! Go Tianjin! Go China!
(Reported by Lan Fang and photographed by Sun Wei and edited and translated by Nankai News Team)